Video: How to get Sprint U600 4G USB Free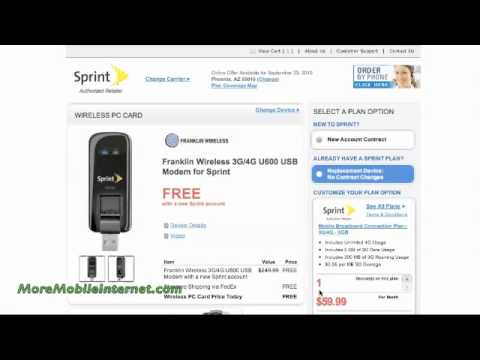 This video walks you through the first few steps of ordering the Sprint U600 4G card for free.  It's obviously pretty easy, but this will confirm any doubts.  One of the great things about ordering from More Mobile Internet is that none of our Free Device offers require you to mail in a rebate.  We all know rebates are a hassle and if you happen to even mail them in, sometimes it takes several follow ups with the rebate center.  Forget those hassles!  Why not get it where the card is free, the shipping is free, and there are no rebates to mess with?  Top that off with the lowest prices on the web and you have a no-brainer.
As mentioned in the video, if you want a CradlePoint 4G Router do not get the one on the same order form as the U600.  The one they have there, the CTR350 will work with the U600, but NOT on the 4G side. Go back to More Mobile Internet and order an MBR900 or CTR500 since those are 4G capable.
To make sure the U600 is the right device for you, simply visit Sprint Mobile Broadband and compare the available cards.